New York Finish Line Common Core Math 3rd Edition Grade 2~8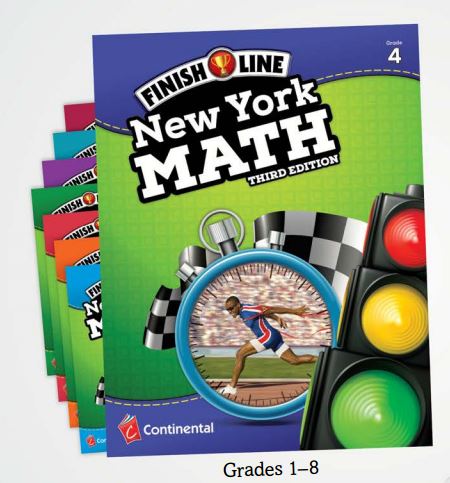 New York Finish Line Common Core Math 3rd Edition Grade 2~8
Finish Line New York Math provides focused instruction to help students think critically and master New York's Common Core Learning Standards (CCLS).
In This Edition

How to Use Finish Line
Finish Line is designed to supplement your GO Math!™ and Connected Mathematics® Project 3 (CMP3) programs. Instruction and practice are concise and simply presented, and minimal components—student workbooks and annotated teacher's editions—make implementation easy to manage.
Learning Resources
Flash cards and a glossary are provided for key concepts and vocabulary presented in the book.
Teacher Support
Annotated teacher's editions include instructions for using the student book; objective for each lesson; student book pages with correct answers, CCLS correlation, Depth of Knowledge (DOK) for each item, and answer rationales for items in the Independent Practice; extension activity/hands-on activity and vocabulary for each lesson; scoring rubrics; and connections to the Standards for Mathematical Practice.
ISBN:
Math Grade1 9780845478998, 9780845479070
Math Grade2 9780845479087,9780845479001
Math Grade3 9780845479094,9780845479018
Math Grade4 9780845479100,9780845479025
Math Grade5 9780845479117, 9780845479032
Math Grade6 9780845479124,9780845479049
Math Grade7 9780845479216,9780845479131
Math Grade8 9780845479148, 9780845479063

sale
Title (Student Edition) ISBN
Finish Line New York Math Grade 1 9780845478998
Finish Line New York Math Grade 2 9780845479001
Finish Line New York Math Grade 3 9780845479018
Finish Line New York Math Grade 4 9780845479025
Finish Line New York Math Grade 5 97808454790232
Finish Line New York Math Grade 6 9780845479049
Finish Line New York Math Grade 7 9780845479056
Finish Line New York Math Grade 8 9780845479063
Teacher's Edition
Finish Line New York Math Grade 1 9780845479070
Finish Line New York Math Grade 2 9780845479087
Finish Line New York Math Grade 3 9780845479094
Finish Line New York Math Grade 4 9780845479100
Finish Line New York Math Grade 5 9780845479117
Finish Line New York Math Grade 6 9780845479124
Finish Line New York Math Grade 7 9780845479131
Finish Line New York Math Grade 8 9780845479148